Art By Dano Shop Feedback
"Excellent replica! The colors are so vibrant and the quality of the print is awesome! Very fast shipping too! Wonderful seller, would recommend to anyone!" - Angel Anderson - Three Little Birds Print
"Everything perfect. Great Service - Great Band - Once again+" - Roy Hulse Unchained... & Aerosmith Pump Tour
"Thanks for the amazing design posters and the extra one of Bob Marley, also the nice message really love it:)" - Dino De Angelis - Billiards with the Devil
"It exceeded my expectations. Lovely painting. Came faster than it said it would." - lindaann74 - Unchained...
"Very happy and it arrived in good time!" - Natalie Ekström - A Day in the Life
"This was a gift for my die hard Van Halen dad and he absolutely loves it thank you so much for taking the time to do this! It's the best thing, and hasn't stopped admiring it. Thank you!!!" - Jordan Duran - Unchained...
"Framed and under the tree! He will freak out when he sees this. He LOVES Van Halen. Thank You!" - Crystal Renner - Unchained... Print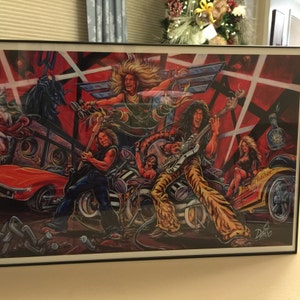 "Perfect Christmas gift fora Rolling Stones lover. Very fast shipping" - Skye O'Grady- Billiards with the Devil
"The print looks even better in person than it does online. It's bigger than I expected." - Sarah Maddux - Unchained... Print
"It came in way quicker than I expected and the quality is wonderful!! I'm so happy with it!" - Jack Johnson
"Shipped very quickly, looks great! I gifted this to someone who loves the Rolling Stones- it's perfect!" - Billiards with the Devil

"It arrived quickly in perfect condition. The glossy finish is great and looks awesome." - Charles Childress Billiards with the Devil
We are currently working to improve the customer experience on artbydano.com Please take a moment to answer the 3 question survey below.